Had some peaches and jalapeños that needed a drink. The previous grilled experiment went quite well.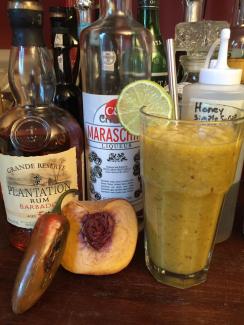 Instructions
Grill, smoke, or roast a peach and 2 jalapeños (enough for 4 drinks).
Pit and dice half a peach, then add to a blender.
Seed, quarter, and add a jalapeño.
Add 2oz fresh lime juice; 1oz honey simple syrup; and 1cup of ice.
Add 4oz rum and 1oz maraschino liquor.
Blend until pureed and smooth.
Serve in a highball or pint glass and garnish with a lime wheel.