Based loosely on a gin basil smash.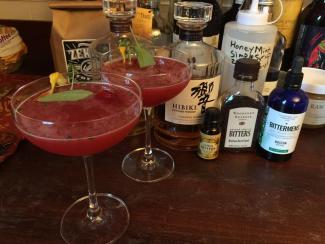 Instructions
Slice a fresh lemon in half and peel 2 long lemon twists.
Add the plum to a shaker with 1oz fresh lemon juice; 4 thyme sprigs; 8 sage leaves; and 1oz honey simple syrup.
Add 3 dashes of lemon bitters and 3 dashes of citrus bitters.
Add 6oz of Japanese whisky.
Shake for 30sec and let rest for 60sec (to chill).
Strain into a cocktail glass.
Garnish with a lemon twist, sage leaf, and thyme sprig.