Fall cocktail and finishing some infusions. Would be fine with regular bourbon and rye. Inspired by the Big Apple Bourbon Cocktail.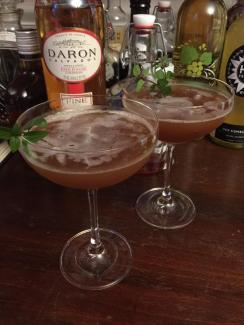 Instructions
Add ice to a shaker with 10 mint leaves; 5oz apple cider; 2tsp balsamic vinegar; 1oz apple brandy; 2oz apple infused bourbon; and 1oz apple cinnamon infused rye.
Shake 30sec and rest 60sec.
Strain into a cocktail glass.
Optionally garnish with an apple slice and mint sprig.
Optionally rim with cinnamon sugar.