I picked up the celery shrub from Bittermens and wanted to try one of their recommended cocktails.  I made a few minor changes.  Agave nectar instead of simple syrup and dry instead of bianco vermouth.  Aged tequila tends to be more appealing, so reposado instead of blanco, of course!
Source: http://bittermens.com/cocktails/the-woodberry-schooner/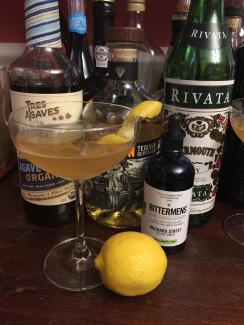 Instructions
Add ice to a shaker or large glass.
Add 1oz reposado tequila.
Stir for ~60sec and let rest.
Strain into a cocktail glass.
Garnish with a lemon twist.