Shelley calls this the "Spicy Pirate". Not too spicy, but definitely has a bite.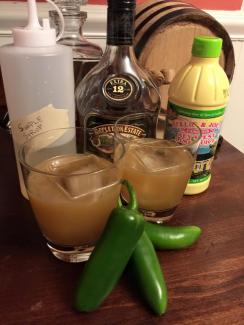 Instructions
Slice open a jalapeño.  Deseed for a less spicy drink.
Add half the jalapeño to a shaker.
Add 0.5oz fresh lime juice.
Muddle gently (4-6 times).
Shake for 30sec and let rest for 60sec to chill.
Double strain into a cocktail glass.
Garnish with a lime wheel.