I wanted sangria.  This recipe worked well with 2oz of pomegranate juice, too.  Source.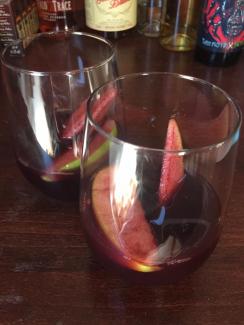 Instructions
Slice and core a pear and granny smith apple, then add the slices to a pitcher.
Add 12oz port; 12oz apple cider; 1.5oz rye whiskey; and 0.75oz maple syrup.
Make sure most of the fruit is submerged. Refrigerate for at least 12 hours.
Serve in a wine glass or goblet with a pear and apple slice.