This is a gin-based Bloody Mary, since I'm less fond of vodka.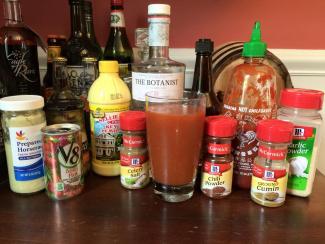 Instructions
Add 6oz tomato juice; 1oz lemon juice; 2tsp hot pepper sauce; 2tsp Worcestershire sauce; 0.5tsp brine from olive jar; 1pinch of hot chili powder; 1pinch of garlic powder; 1pinch of ground cumin; 4pinches celery salt; 4pinches fresh-ground pepper; 4pinches horseradish.
Pour into a highball glass.
Optionally garnish with celery stalk; small dill pickle; 2 stuffed green olives; and 1 lemon wedge.