Looking for a peaty cocktail, this really fit the bill. Scotch pairs well with honey and lemon, too.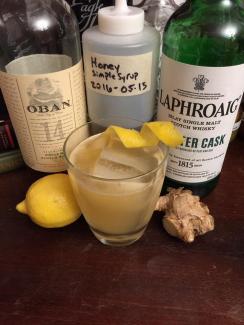 Instructions
Add to a shaker fresh sliced ginger and 0.75oz lemon juice.
Add ice; 0.75oz honey simple syrup; and 2oz blended scotch.
Shake 30 seconds and let rest for 60 seconds to chill.
Double strain into a rocks glass filled with ice.
Float 0.25oz peated scotch (pour over a spoon).
Garnish with a lemon peel.