A tropical drink with ginger.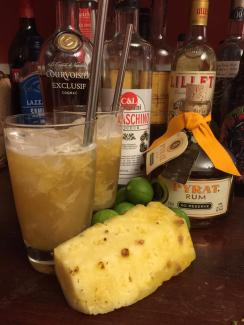 Instructions
Thinly slice ~1in cube of fresh ginger root and put into a shaker with 1tsp of sugar and 2, 1in cubes of fresh pineapple.
Muddle until these turn into a paste.
Add ice; 0.5oz fresh lime juice; 0.75oz maraschino liqueur; 0.75oz brandy; and 1.5oz rum.
Shake vigorously for 60sec.
Pour, unstrained into a tumbler glass. Add more ice if needed.
Optionally garnish with a pineapple leaf.