I wanted a refreshing gin-based drink and came up with this.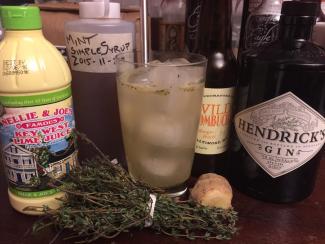 Instructions
Thinly slice ~1in cube of fresh ginger root and put into a shaker with a few sprigs of thyme.
Add 2oz simple syrup and muddle.
Add ice to the shaker; 1oz lime juice; and 3oz gin
Double-strain into a highball glass filled with ice.
Top with kombucha and lightly stir if desired.
Optionally garnish with a thyme sprig, ginger slice, and/or lime wheel.