Here's a cocktail that Shelley dug up.  I can't recall where, but we made a few minor modifications.  This is fantastic during peach season (July–September).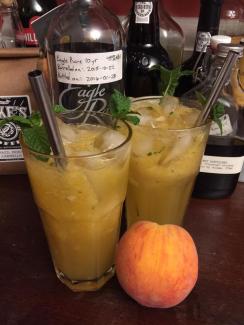 Instructions
Dice half a peach and add to a shaker.
Add fresh sliced ginger (1 cu. in.).
Add 1oz mint simple syrup.
Muddle until soft, then add ice to the shaker.
Add 3 dashes of angostura bitters.
Shake, then strain into a highball glass filled with ice.
Top with ginger ale and gently stir.
Garnish with a mint sprig.